Titty Fuck videos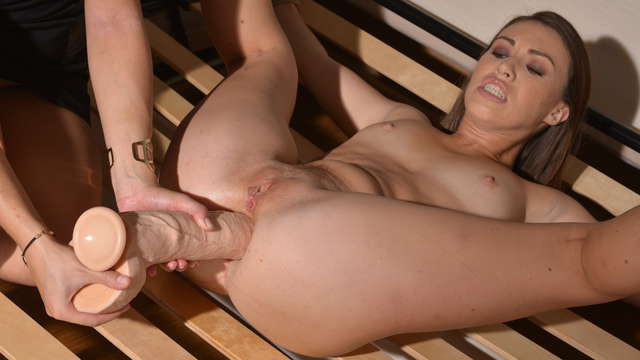 Framed for Cruelty
Mistress Aurelly Rebel aka Kristall Rush is an inventive domme. She keeps her slave Tiffany Doll bound wrist and ankle to the metal frame of an old couch, which she's converted with some slats of wood into a harsh bed for cruel training. Mistress Aurelly squeezes and tweaks her subbie's flesh, then she brings out a massive flesh-colored dildo for Tiffany's shaved pussy in this extreme sex Full HD BDSM scene. Covering Tiffany's mouth with her hand, Aurelly gets her to pipe down, then she crams the phallus first into slave Doll's snatch and then her anus, producing a big gape. Next she puts Tiffany into the doggie position and fucks her bottom with the dildo again, as Tiffany kneels in the recess at the bottom of the couch frame. In the end, after servicing the dominatrix with her mouth, the slave is tied into the bottom of the frame, totally helpless at the feet of her merciless goddess--who nonchalantly smokes a cigarette as she lords her power over the sub in this fetish XXX video!
Actor: Tiffany Doll, Aurelly Rebel
Small Tits
Dildo
Deepthroat
Length 29:50 Views:1 x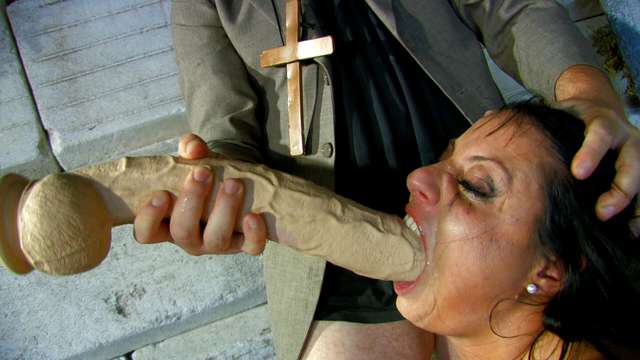 The exorcism of Damaris
Damaris is a nice looking black-haired girl... Who appears to be at a cemetery and is posessed by something, we're guessing it's some kind of a sex demon. So a sexual priest comes to the rescue and tries to help her from the unbreakable slavery to evil sex forces. But is he using the right technique? Sucking his dick surely wasn't part of the plan - maybe there's a twist and HE is the posessed one...
Condom
Titty Fuck
Masturbation
Length 22:21 Views:0 x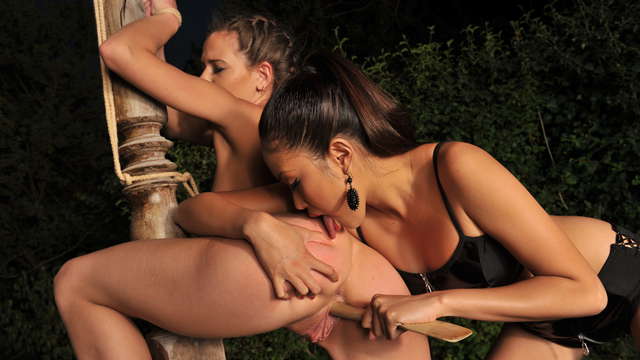 Tightly Bound and Hotly Spanked!
Subil Arch must have been pretty naughty to have displeased Danika to get the Filipina beauty to tie her up and discipline her so fiercely! First they go outside, where Danika binds her naked to a post on an old four-poster bed which comes in handy for perverted purposes! Then she gives Subil a barehanded spanking, and we watch the sizzling and reddening of Subil's seat. Danika can't resist giving her charge a few tongue licks between her cheeks, and she licks Subil's ears as well even as she pulls harshly on the dark blonde's nipples. Subil cries out at the intense squeezing of her nubs, and then Danika bites her earlobes as well. Danika spits on Subile's butt, then after tying her leg in a different position, she licks Subil's snatch for awhile. But Danika just can't seem to satisfy her cravings, as she moves from cunnilingus back to chastising Miss Arch's ass. While left alone as Danika goes to fetch an implement of correction, Subil rebels against her bonds, trying to break free, but she can't. Then Danika returns with a paddle, which she smacks over and over against Subil's bottom, which gets redder and redder. Danika fucks Subil with the handle of the paddle, which we see in huge intense closeups, and then she has Subil lick the handle clean. By the time Danika is finished with this bizarre punishment, night has fallen and the torrid pair are surrounded by darkness as Danika licks the face of her thoroughly chastised slave...
Actor: Danika, Subil Arch
Small Tits
Domination
Fake Tits
Length 26:22 Views:1 x