Stockings videos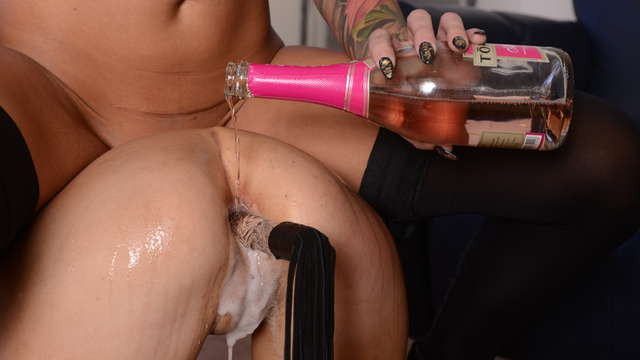 Fiendish Workout
Ever wonder how the bizarre set like to celebrate the New Year? Then come along for this wild scene between Mistress Kayla Green and her newbie slave girl, Meg Magic. Barefoot, nude, and clad only in a black hooded cape, the slender brunette Meg serves her blonde domme some champagne, then receives a little taste of it first on her sexy brown nipples and then in her mouth. But Mistress Kayla has far more serious celebratory rituals in mind, like whipping Meg's ass with a flogger, then cramming the plastic handle of the flogger in Meg's pussy so it hangs out like a long tail. After having her sub lap her pussy, the mistress transfers the flogger handle from Meg's snatch to her asshole, and also applies a spanking. As this fetish XXX video ratchets up in kink and lesbian bondage, Meg's wrists are tied even as she is directed to suck even more at Kayla's cunny. Finally Kayla decides to share some more of the champagne--by pouring it all over Meg's ass crack from which the flogger still protrudes. Loads of Full HD BDSM for this slave as her shaved pussy and vulnerable butt get quite a festively fiendish workout as 2014 begins!
Actor: Meg Magic, Kayla Green
Small Tits
Dildo
Domination
Length 34:46 Views:0 x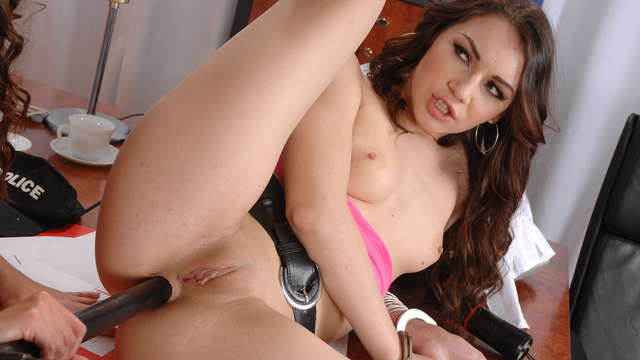 Handling the Hookers!
When Detective Perry of the DDF Pussy Patrol has a bad day, all the hookers in his precinct get their asses taxed. You see, he has his undercover lady Amirah out there grabbing the sexy little street walkers on a regular basis. Some could call it entrapment, after all, both Perry and Amirah have ulterior motives with the chicks, but the hookers don't mind it at all. They don't just get booked, they get stuffed!Today it's the infamous Russian hooker Stacy Snake that get's cuffed and brought in. After a shouting match with Detective Perry where she swears she will never stop hooking things heat up. When the detective steps out, Amirah has a little encounter with her and a nightstick to get things going. David comes in shortly after to bang the girls out with his baton. He fucks Amirah first, missionary on the precinct desk while holding Stacy's face right up to the pie that's being pounded. She cleans the juice off his dick with her mouth every few pumps and then David sits on a chair so Amirah can ride his revolver while Stacy nuzzles on his nut sack! We get some nice shots of the Russian babes heart shaped ass and shaved pussy from the rear before she gets pulled up by her hair and has her asshole eaten out by the detective. Then it's time to see how good she is. David starts plowing her doggy style. Her sweet ass checks bounce of his hips while her tongue buries deep inside Amirah's wet clam. She's taking that dick in the ass like a pro! Closeups of her gaped sphincter are quite vivid, lots of room in there for ramming that's for sure! Amirah then sits on Stacy's face and cleans David's cock off with her tongue every few dickings. The whole time Ms. Snake is still cuffed, but she doesn't miss a beat. After a double blowjob it's time to give detective Amirah her reward in the form of a finger bang and squirt! Then Stacy get's a hard last pounding in spoon style to drill in the message " No more hooking in my precinct! " They seal the deal with a cumshot to the forehead. That'll teach her!
Actor: Amirah, Stacy Snake, David Perry
Cowgirl
Leather
Stockings
Length 38:31 Views:0 x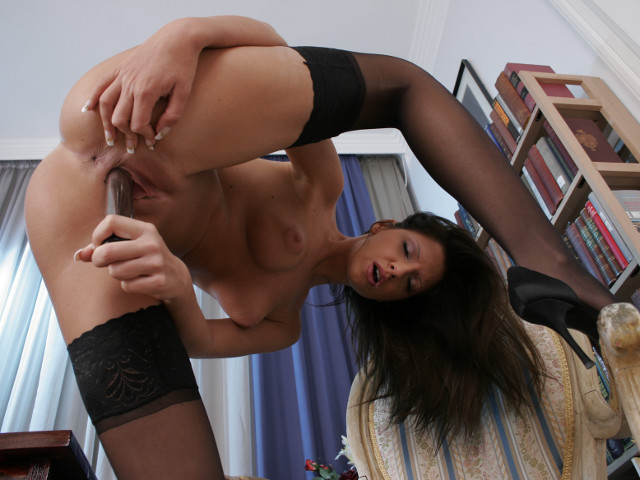 Silver love
Sexy brunette wearing black lingerie and black stockings spoils herself by fingering and rubbing herself with her silver friend.
Actor: Bambi
Masturbation
Stockings
Solo
Length 16:55 Views:0 x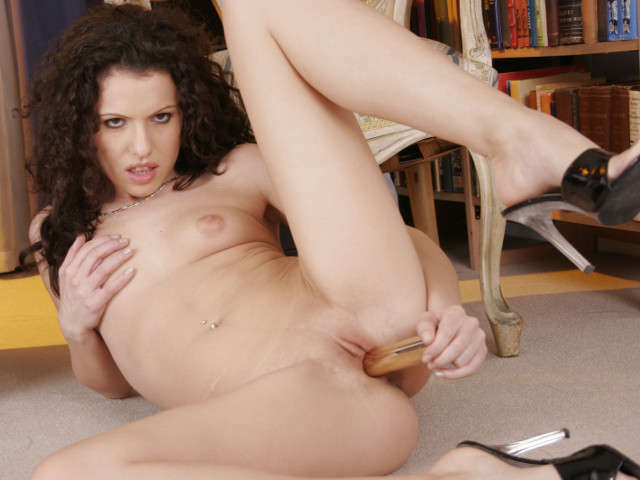 Horny afternoon
A pretty brunette in black tight stockings and high heels decides to make her boring afternoon a little more exciting! The only thing she needs is her golden toy and a little fantasy...
Actor: Reka
Small Tits
Dildo
Stockings
Length 15:54 Views:1 x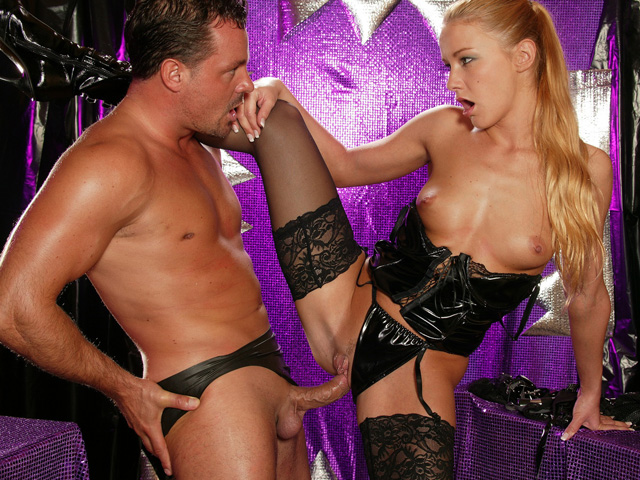 Serve and command
A dominatrix dressed in black likes to play with her boy and he likes to serve her. But if he`s good and behaves, he will get a reward from the mistress.
Actor: Natalli DiAngelo
Masturbation
Cunnilingus
Stockings
Length 39:14 Views:0 x