Blowjob videos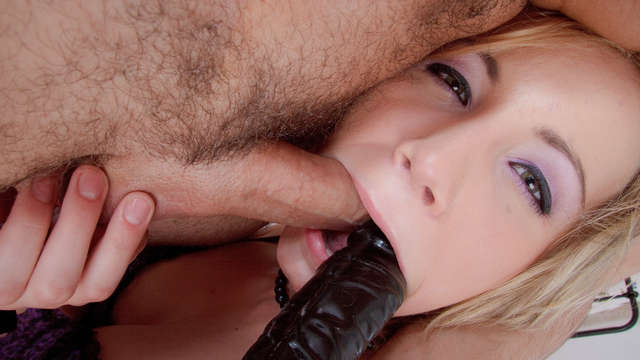 Blonde has pussy pumped and rough fuck
Here's a naughty blonde teen who likes to go more than all the way - she will enjoy cocks and dildos presented to her to the max and beg for more. She's up to every kinky experiment and when you see all the stuff that are in her holes while this girl is getting goosebumps, you'll be getting a hard-on instead.
Blowjob
Blonde
Toys
Length 34:46 Views:0 x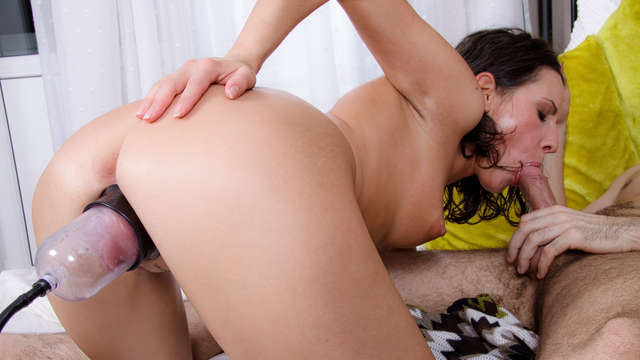 Kinky Cute Brunette Gets Pussy Pumped
She is one hell of a chick, and after the pump treatment, she'll have one hell of a pussy! This brown-haired cutie is also pretty good at cocksucking and just you wait until that swollen vagina welcomes cock inside her sensitive environment!
Actor: herci
Cowgirl
Cunnilingus
Blowjob
Length 28:12 Views:0 x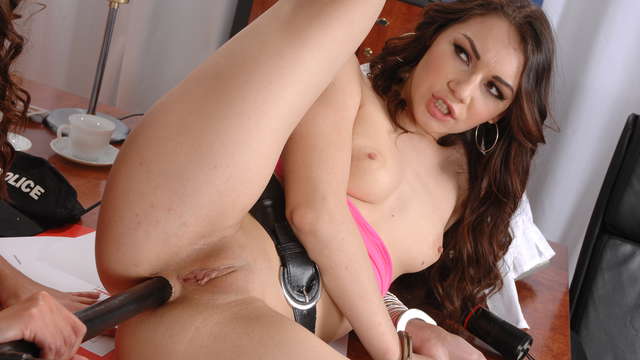 Handling the Hookers!
When Detective Perry of the DDF Pussy Patrol has a bad day, all the hookers in his precinct get their asses taxed. You see, he has his undercover lady Amirah out there grabbing the sexy little street walkers on a regular basis. Some could call it entrapment, after all, both Perry and Amirah have ulterior motives with the chicks, but the hookers don't mind it at all. They don't just get booked, they get stuffed!Today it's the infamous Russian hooker Stacy Snake that get's cuffed and brought in. After a shouting match with Detective Perry where she swears she will never stop hooking things heat up. When the detective steps out, Amirah has a little encounter with her and a nightstick to get things going. David comes in shortly after to bang the girls out with his baton. He fucks Amirah first, missionary on the precinct desk while holding Stacy's face right up to the pie that's being pounded. She cleans the juice off his dick with her mouth every few pumps and then David sits on a chair so Amirah can ride his revolver while Stacy nuzzles on his nut sack! We get some nice shots of the Russian babes heart shaped ass and shaved pussy from the rear before she gets pulled up by her hair and has her asshole eaten out by the detective. Then it's time to see how good she is. David starts plowing her doggy style. Her sweet ass checks bounce of his hips while her tongue buries deep inside Amirah's wet clam. She's taking that dick in the ass like a pro! Closeups of her gaped sphincter are quite vivid, lots of room in there for ramming that's for sure! Amirah then sits on Stacy's face and cleans David's cock off with her tongue every few dickings. The whole time Ms. Snake is still cuffed, but she doesn't miss a beat. After a double blowjob it's time to give detective Amirah her reward in the form of a finger bang and squirt! Then Stacy get's a hard last pounding in spoon style to drill in the message " No more hooking in my precinct! " They seal the deal with a cumshot to the forehead. That'll teach her!
Actor: Amirah, Stacy Snake, David Perry
Cowgirl
Leather
Stockings
Length 38:31 Views:0 x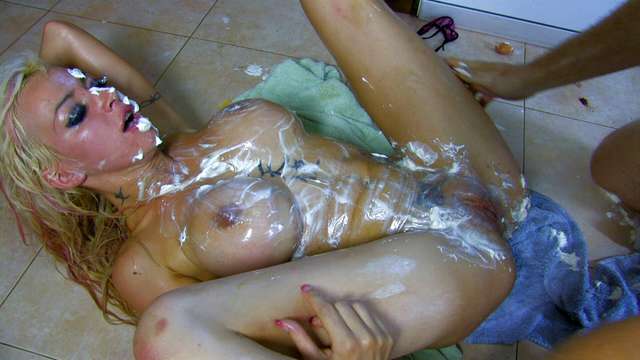 Crazy Sexual Food Extravaganza with Eva Lange
Now you thought there is no way to spice up your sex life - let Eva Lange show you how it's done! When you're done shopping for various groceries, you need to put whipped cream almost everywhere, spray ketchup on your partner's dick, shove an egg into your pussy, try to fuck an ice cream stick and most of all - have the messiest sex ever - 69 of 69 chefs recommend this!
Fake Tits
Cowgirl
Blowjob
Length 35:35 Views:1 x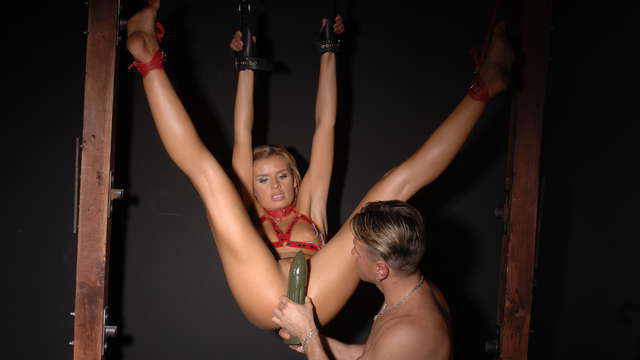 Cloe & Choky Ice: HUNG and STUFFED
A hard playing scene ensues when Choky introduces his new found friend to the arts of bondage and the darker side of lust. Dragged into the dungeon playroom her wiry and bewildered body is thrust up in the rack exposing her in the widest possible position. Choky has his way with her out stretched pussy. He pulls and stretches it till it can accommodate not just his fingers, but his whole hand. Cloe swoons with ecstasy as he plunges his fist deep into her gapping pit. This introduction is followed by several more when her body and limbs are bound hanging and stretched to extreme limits. Her mouth hung at crotch level well beneath her spread and pointed feet, accommodates Choky's plunging organ. Hung be wrists and ankles Cloe's pussy and asshole are both exposed and spread wide. They oddly enough easily accommodate a huge green dildo as well as Choky's hammering cock.
Actor: Cloe, Choky Ice
Domination
Dildo
Bondage
Length 25:22 Views:0 x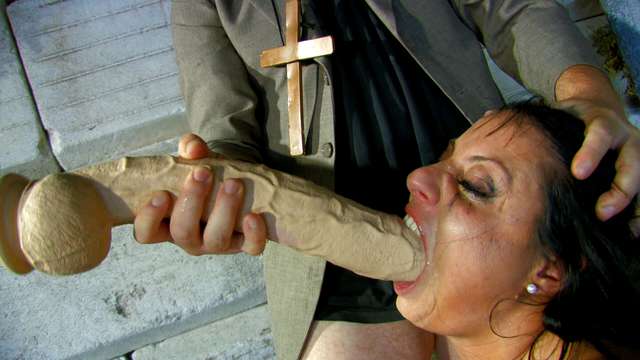 The exorcism of Damaris
Damaris is a nice looking black-haired girl... Who appears to be at a cemetery and is posessed by something, we're guessing it's some kind of a sex demon. So a sexual priest comes to the rescue and tries to help her from the unbreakable slavery to evil sex forces. But is he using the right technique? Sucking his dick surely wasn't part of the plan - maybe there's a twist and HE is the posessed one...
Condom
Titty Fuck
Masturbation
Length 22:21 Views:0 x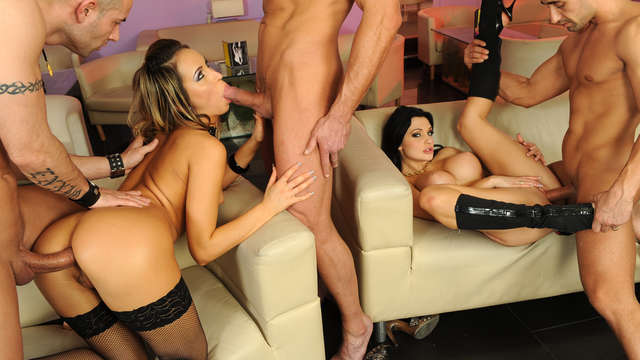 An Unusual Night At The Swinger's Club
I'm heading to a swingers' party with my girlfriend Aleksa. I love to party with her, we usually end up giggling, and fucking each other in the toilet. This time we started our party with a sensual lesbian dance... that happened to be so mind-blowing that most of the guys got a hard-on right away. We only had to choose from them and so did our unusual night at the swinger's club begin!
Actor: Aletta Ocean, Aleska Diamond
Blowjob
DP
Big Tits
Length 36:07 Views:3 x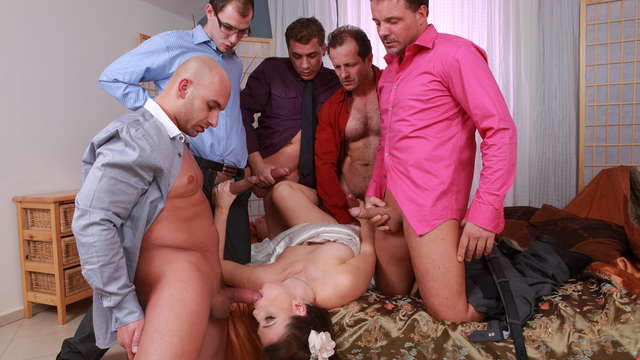 Bride blows all her groomsmen!
Super naughty Jessica Fiorentino take the plunge on her wedding day marrying porn star Steve Q. So what happens when two porn stars get married? Well, how about all the groomsmen, who are also porn stars, breaking in the wife with a five cock blowjob! Check out the action as Jessica devours all the hard meat in a fit of horny passion!After the wedding Steve tells Jessica he has a surprise for her, and she can't wait! When suddenly all the groomsmen show up in the room, she knows right away what's up! The guys unzip and five hard cocks receive her oral treatments straight away! She goes bananas on their beef sticks! Sucking them back and forth while stroking a cock with each of her hands simultaneously. Two cocks in her mouth at once, three cocks in her mouth at once, she even goes for four! Alternating like a champ she spits, and slobbers, and moans. Her breathing escalates and she fills the room with her moaning sounds when the guys spread her open on the bed and eat that sexy trimmed pussy of hers while finger bangin it. Not a moment goes by that her mouth isn't filled with a dick head or two. The guys really surround her with their peckers, but she never seems overwhelmed! Then it's a mega blast to her grill as the guys cum all over her pretty face, tits, hair, she even gets one right in the eye ball! Jessica, welcome to the wonderful world of marriage!
Actor: Neeo, Steve Q, Mark Zicha, Jessica Fiorentino, George, J.J.
Blowjob
Natural Tits
Fingering
Length 28:35 Views:0 x



She Is All Mine
'She is all mine' could say Master Zenza Raggi, but he never walks on the easy path. The dutiful Master makes sure to break any resistances a girl may have before he claims her as his property. This time is not an exception either. Poor Niki Fox learns pain and submission. Her tits sore, her pussy burning from the tortures, and the Master cums on her as many times as he wants to – because she is all his!
Actor: Niki Fox
Blowjob
1on1
BDSM
Length 42:04 Views:0 x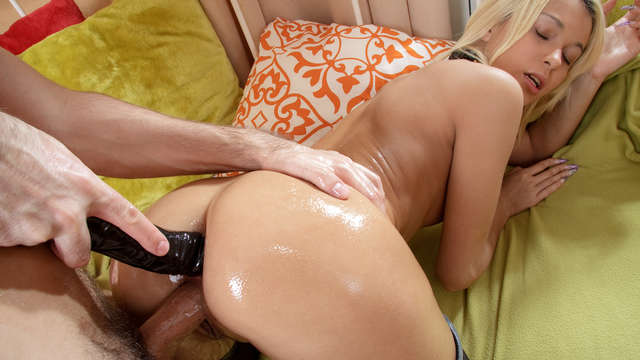 Dirty blonde gets a huge toy and a cock in her holes
Look at another naughty blonde with a pretty face who enjoys spreading her pussy and anus! She will get all wet when a giant black dildo starts to penetrate her orifices. While the dildo is still there, a real dick comes into the picture and she is practically double penetrated while making lovely noises. She loves it more than your average girl does, and her starving pussy never has enough!
Small Tits
Teen
Blowjob
Length 31:08 Views:0 x