Leather Videos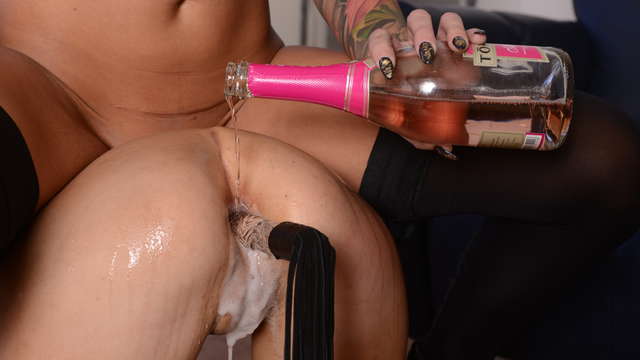 Fiendish Workout
Ever wonder how the bizarre set like to celebrate the New Year? Then come along for this wild scene between Mistress Kayla Green and her newbie slave girl, Meg Magic. Barefoot, nude, and clad only in a black hooded cape, the slender brunette Meg serves her blonde domme some champagne, then receives a little taste of it first on her sexy brown nipples and then in her mouth. But Mistress Kayla has far more serious celebratory rituals in mind, like whipping Meg's ass with a flogger, then cramming the plastic handle of the flogger in Meg's pussy so it hangs out like a long tail. After having her sub lap her pussy, the mistress transfers the flogger handle from Meg's snatch to her asshole, and also applies a spanking. As this fetish XXX video ratchets up in kink and lesbian bondage, Meg's wrists are tied even as she is directed to suck even more at Kayla's cunny. Finally Kayla decides to share some more of the champagne--by pouring it all over Meg's ass crack from which the flogger still protrudes. Loads of Full HD BDSM for this slave as her shaved pussy and vulnerable butt get quite a festively fiendish workout as 2014 begins!
Actor: Meg Magic, Kayla Green
Small Tits
Dildo
Domination
Length 34:46 Views: 0x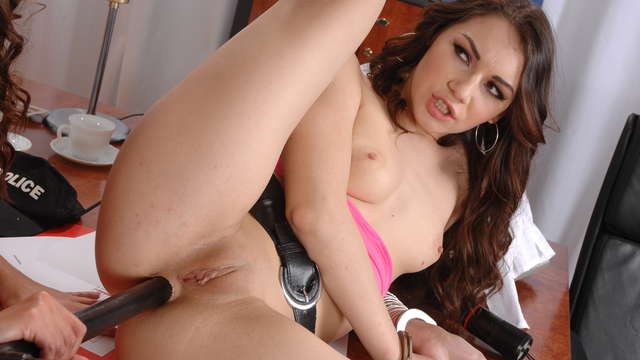 Handling the Hookers!
When Detective Perry of the DDF Pussy Patrol has a bad day, all the hookers in his precinct get their asses taxed. You see, he has his undercover lady Amirah out there grabbing the sexy little street walkers on a regular basis. Some could call it entrapment, after all, both Perry and Amirah have ulterior motives with the chicks, but the hookers don't mind it at all. They don't just get booked, they get stuffed!Today it's the infamous Russian hooker Stacy Snake that get's cuffed and brought in. After a shouting match with Detective Perry where she swears she will never stop hooking things heat up. When the detective steps out, Amirah has a little encounter with her and a nightstick to get things going. David comes in shortly after to bang the girls out with his baton. He fucks Amirah first, missionary on the precinct desk while holding Stacy's face right up to the pie that's being pounded. She cleans the juice off his dick with her mouth every few pumps and then David sits on a chair so Amirah can ride his revolver while Stacy nuzzles on his nut sack! We get some nice shots of the Russian babes heart shaped ass and shaved pussy from the rear before she gets pulled up by her hair and has her asshole eaten out by the detective. Then it's time to see how good she is. David starts plowing her doggy style. Her sweet ass checks bounce of his hips while her tongue buries deep inside Amirah's wet clam. She's taking that dick in the ass like a pro! Closeups of her gaped sphincter are quite vivid, lots of room in there for ramming that's for sure! Amirah then sits on Stacy's face and cleans David's cock off with her tongue every few dickings. The whole time Ms. Snake is still cuffed, but she doesn't miss a beat. After a double blowjob it's time to give detective Amirah her reward in the form of a finger bang and squirt! Then Stacy get's a hard last pounding in spoon style to drill in the message " No more hooking in my precinct! " They seal the deal with a cumshot to the forehead. That'll teach her!
Actor: Amirah, Stacy Snake, David Perry
Cowgirl
Leather
Stockings
Length 38:31 Views: 0x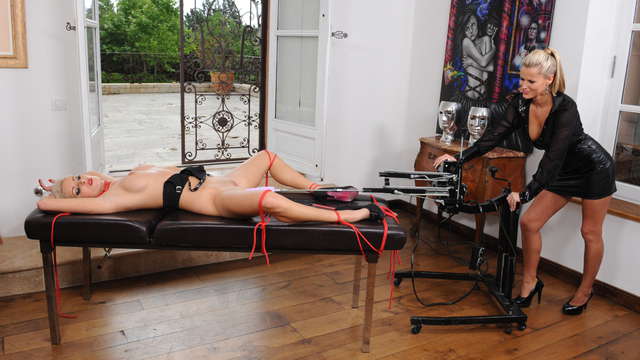 Discipline by Flyswatter!
Domineering Sandra Hill has her submissive Bianca well in hand as she leads her by a red leash to a massage table, where she binds the hapless girl. Then she caresses and smacks Bianca's tits with a bizarre fly swatter in the shape of--a fly! Mistress Sandra peels away Bianca's bodysuit and bares her sub's box to the air and applies the fly swatter there--which doesn't seem to make the subbie too happy. But then, subs aren't supposed to always be happy or they wouldn't be proper subs. After priming Bianca's pussy with that kinky swatter, Sandra lubes up Bianca's slit with some spit, then wheels over the infamous DDF Fucking Machine and inserts the pink dildo into the writhing slave's snatch, which seems to quickly make Bianca's nipples harden. Sandra supervises the thrusting penetration of the robotic dildo arm of the machine, and also continues to apply that fly swatter on Bianca's vulnerable mound. Whatever did such a pretty girl like Bianca do to get involved with such a kinky situation? Well, use your imagination and see what pervy scenario you come up with as you study this new scene!
Actor: Bianca, Sandra Hill
Domination
Bondage
Leather
Length 16:07 Views: 0x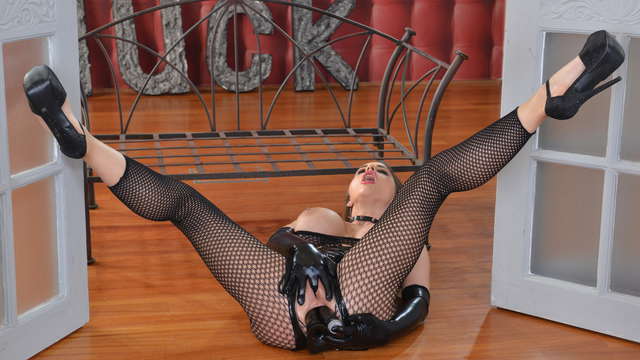 Five Finger Challenge
Cathy Heaven is anything but angelic today as she stands before us in her open-crotch fishnet tights, waist cincher, fishnet bra and heels. She is more devilish, we'd say, as she goes to work on her anus first with black-gloved fingers and two enormous dildos which she sticks into her butthole simultaneously!! (What does she have, a parking lot in there??) Between cramming the toys in her caboose, she sucks on them too. Totally uninhibited is our kinky Miss Heaven! The curvy Hungarian bares her big tits and takes off her gloves, then sucks her dark-manicured fingers to prepare herself for the ultimate challenge: fisting her ass! You'll be impressed by how much of her hand she gets into her heinie in this fetish XXX video of extreme sex.
Actor: Cathy Heaven
Fake Tits
Dildo
Leather
Length 31:55 Views: 0x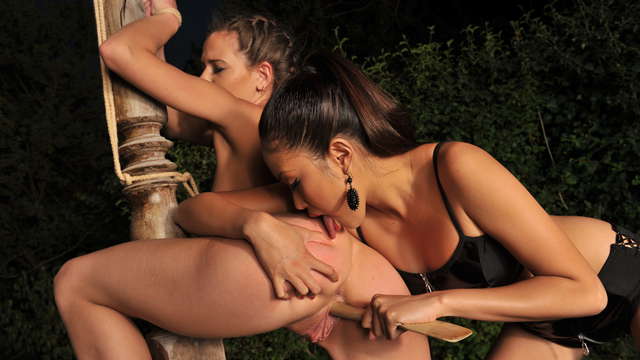 Tightly Bound and Hotly Spanked!
Subil Arch must have been pretty naughty to have displeased Danika to get the Filipina beauty to tie her up and discipline her so fiercely! First they go outside, where Danika binds her naked to a post on an old four-poster bed which comes in handy for perverted purposes! Then she gives Subil a barehanded spanking, and we watch the sizzling and reddening of Subil's seat. Danika can't resist giving her charge a few tongue licks between her cheeks, and she licks Subil's ears as well even as she pulls harshly on the dark blonde's nipples. Subil cries out at the intense squeezing of her nubs, and then Danika bites her earlobes as well. Danika spits on Subile's butt, then after tying her leg in a different position, she licks Subil's snatch for awhile. But Danika just can't seem to satisfy her cravings, as she moves from cunnilingus back to chastising Miss Arch's ass. While left alone as Danika goes to fetch an implement of correction, Subil rebels against her bonds, trying to break free, but she can't. Then Danika returns with a paddle, which she smacks over and over against Subil's bottom, which gets redder and redder. Danika fucks Subil with the handle of the paddle, which we see in huge intense closeups, and then she has Subil lick the handle clean. By the time Danika is finished with this bizarre punishment, night has fallen and the torrid pair are surrounded by darkness as Danika licks the face of her thoroughly chastised slave...
Actor: Danika, Subil Arch
Small Tits
Domination
Fake Tits
Length 26:22 Views: 1x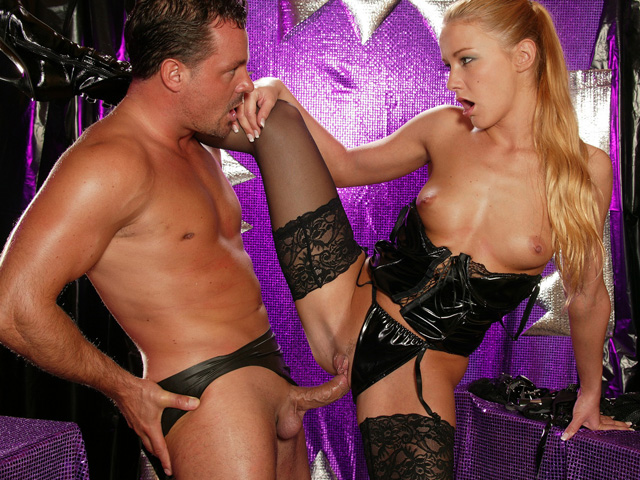 Serve and command
A dominatrix dressed in black likes to play with her boy and he likes to serve her. But if he`s good and behaves, he will get a reward from the mistress.
Actor: Natalli DiAngelo
Masturbation
Cunnilingus
Stockings
Length 39:14 Views: 0x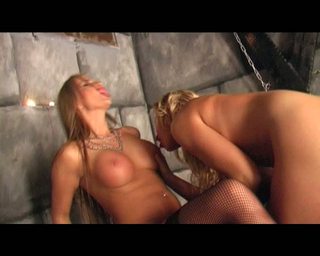 Lesbian torture games
This is an excellent scene for lesbian torture lovers. The Mistress tortured her female slave she's all dressed up in a cute little plaid pleated skirt and short, tight, leather halter top, but Lady Venus has her locked up in her cell. Then she's laid down on the table for some heavy .pussy licking. She can't be punished by tickling alone now, can she? That would be too much fun.
Actor: Francesca Felucci
Masturbation
Leather
Fingering
Length 38:03 Views: 0x