Fake Tits Videos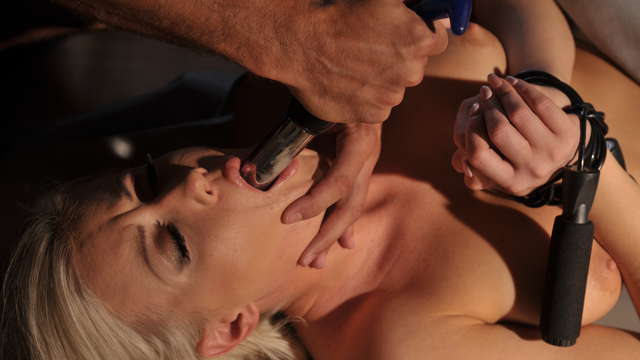 The Hidden Submissive
In today's roleplay, dominant master Mr Clark keeps willing submissive Vicktoria Redd hidden under a sheet on the floor of his basement. Every once in awhile he goes downstairs to amuse himself with his sub. Her wrists and ankles are tied with jump rope to ensure her immobility. He gets the naked blonde on her knees on the little mat she's been laying on, has her stick up her ass, and he then fucks her shaved pussy and asshole with a silver bullet vibrator. Vicktoria gasps and groans and moans at the penetration... Finally, when he's finished with his fun, he has her lick the vibrator before covering her up with the sheet again and leaving her alone and hidden in the basement. See all the edgy extreme sex action in this new Full HD BDSM video.
Actor: Clark, Vicktoria Redd
Fake Tits
Dildo
Shaved
Length 18:26 Views: 1x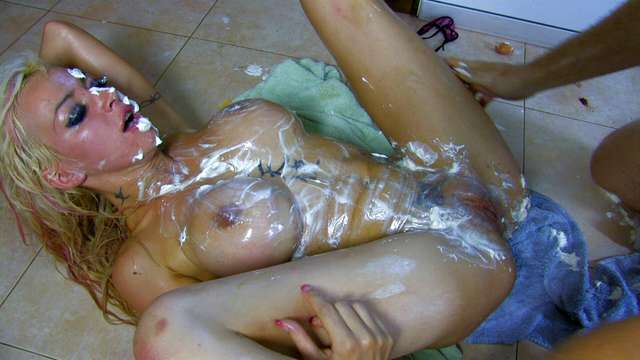 Crazy Sexual Food Extravaganza with Eva Lange
Now you thought there is no way to spice up your sex life - let Eva Lange show you how it's done! When you're done shopping for various groceries, you need to put whipped cream almost everywhere, spray ketchup on your partner's dick, shove an egg into your pussy, try to fuck an ice cream stick and most of all - have the messiest sex ever - 69 of 69 chefs recommend this!
Fake Tits
Cowgirl
Blowjob
Length 35:35 Views: 1x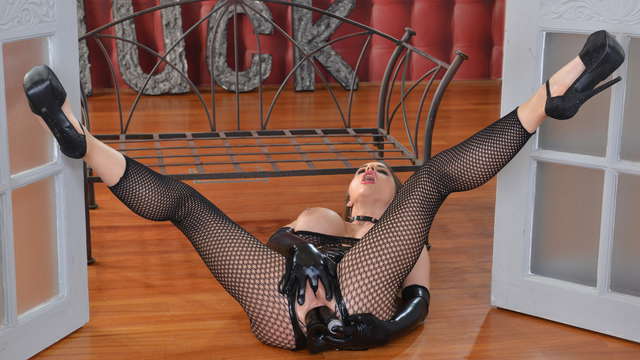 Five Finger Challenge
Cathy Heaven is anything but angelic today as she stands before us in her open-crotch fishnet tights, waist cincher, fishnet bra and heels. She is more devilish, we'd say, as she goes to work on her anus first with black-gloved fingers and two enormous dildos which she sticks into her butthole simultaneously!! (What does she have, a parking lot in there??) Between cramming the toys in her caboose, she sucks on them too. Totally uninhibited is our kinky Miss Heaven! The curvy Hungarian bares her big tits and takes off her gloves, then sucks her dark-manicured fingers to prepare herself for the ultimate challenge: fisting her ass! You'll be impressed by how much of her hand she gets into her heinie in this fetish XXX video of extreme sex.
Actor: Cathy Heaven
Fake Tits
Dildo
Leather
Length 31:55 Views: 0x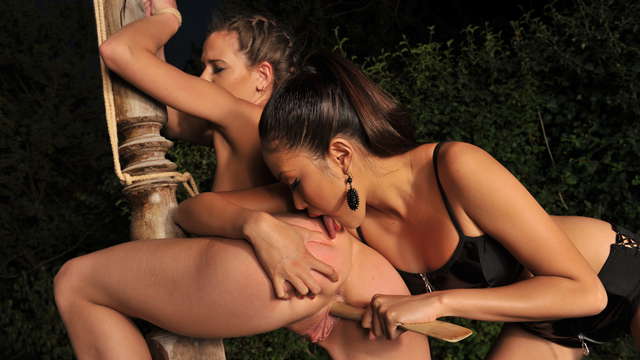 Tightly Bound and Hotly Spanked!
Subil Arch must have been pretty naughty to have displeased Danika to get the Filipina beauty to tie her up and discipline her so fiercely! First they go outside, where Danika binds her naked to a post on an old four-poster bed which comes in handy for perverted purposes! Then she gives Subil a barehanded spanking, and we watch the sizzling and reddening of Subil's seat. Danika can't resist giving her charge a few tongue licks between her cheeks, and she licks Subil's ears as well even as she pulls harshly on the dark blonde's nipples. Subil cries out at the intense squeezing of her nubs, and then Danika bites her earlobes as well. Danika spits on Subile's butt, then after tying her leg in a different position, she licks Subil's snatch for awhile. But Danika just can't seem to satisfy her cravings, as she moves from cunnilingus back to chastising Miss Arch's ass. While left alone as Danika goes to fetch an implement of correction, Subil rebels against her bonds, trying to break free, but she can't. Then Danika returns with a paddle, which she smacks over and over against Subil's bottom, which gets redder and redder. Danika fucks Subil with the handle of the paddle, which we see in huge intense closeups, and then she has Subil lick the handle clean. By the time Danika is finished with this bizarre punishment, night has fallen and the torrid pair are surrounded by darkness as Danika licks the face of her thoroughly chastised slave...
Actor: Danika, Subil Arch
Small Tits
Domination
Fake Tits
Length 26:22 Views: 1x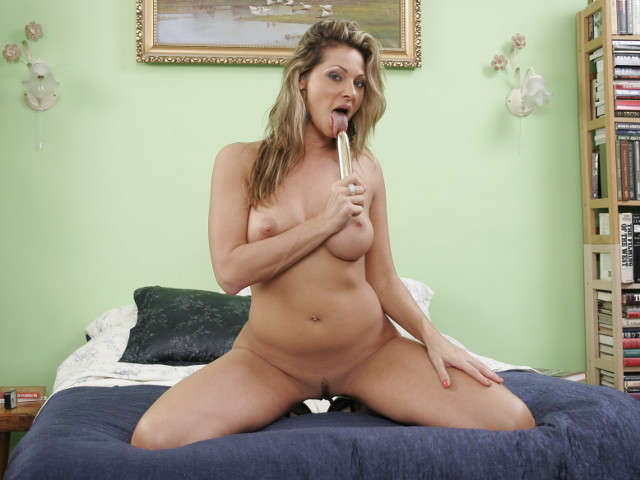 Bed teasing
A sexy blonde shows off her body and moves on her lonely bed which makes her so turned on that she has to please herself...
Actor: Carolina Cage
Dildo
Fake Tits
Masturbation
Length 12:17 Views: 0x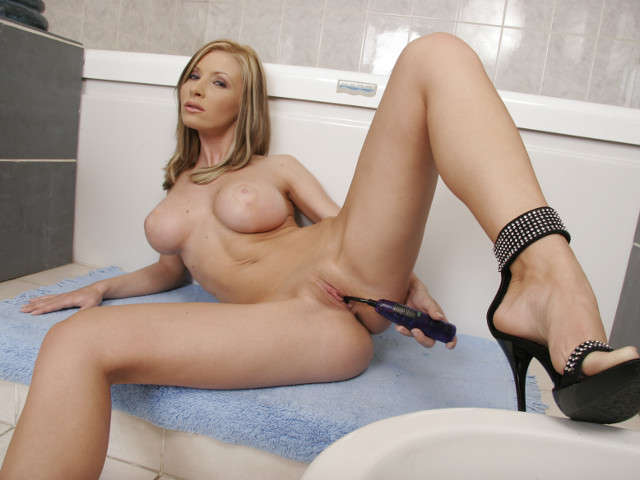 Lonely with her toy
Busty Helena in seethrough lingerie and high heels wants you to see her play with her new toy. Welcome in her bathroom and watch her sexy moves!
Actor: Helena
Fake Tits
Masturbation
Shaved
Length 14:47 Views: 0x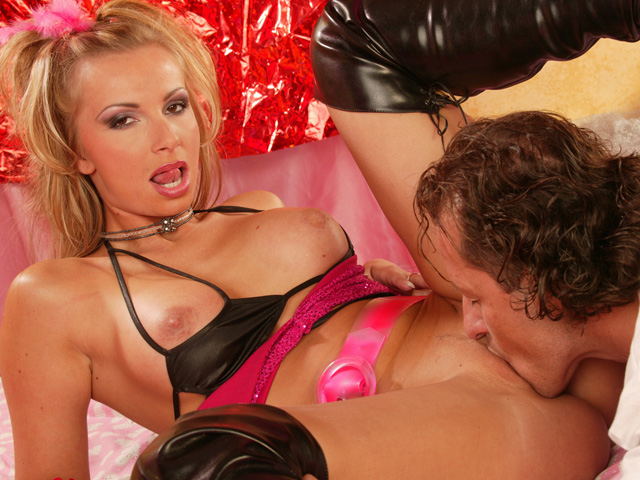 Busty and playful
This busty bitch is a magnet for men. No one can resist her divine body and her muscled macho lover knows it well.
Actor: Francesca Felucci
Fake Tits
Masturbation
Cunnilingus
Length 34:31 Views: 0x