Bondage Videos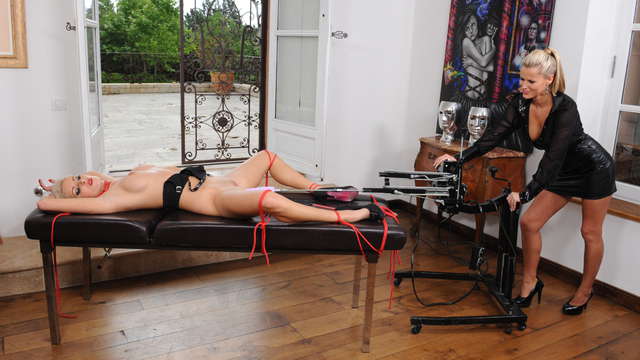 Discipline by Flyswatter!
Domineering Sandra Hill has her submissive Bianca well in hand as she leads her by a red leash to a massage table, where she binds the hapless girl. Then she caresses and smacks Bianca's tits with a bizarre fly swatter in the shape of--a fly! Mistress Sandra peels away Bianca's bodysuit and bares her sub's box to the air and applies the fly swatter there--which doesn't seem to make the subbie too happy. But then, subs aren't supposed to always be happy or they wouldn't be proper subs. After priming Bianca's pussy with that kinky swatter, Sandra lubes up Bianca's slit with some spit, then wheels over the infamous DDF Fucking Machine and inserts the pink dildo into the writhing slave's snatch, which seems to quickly make Bianca's nipples harden. Sandra supervises the thrusting penetration of the robotic dildo arm of the machine, and also continues to apply that fly swatter on Bianca's vulnerable mound. Whatever did such a pretty girl like Bianca do to get involved with such a kinky situation? Well, use your imagination and see what pervy scenario you come up with as you study this new scene!
Actor: Bianca, Sandra Hill
Domination
Bondage
Leather
Length 16:07 Views: 0x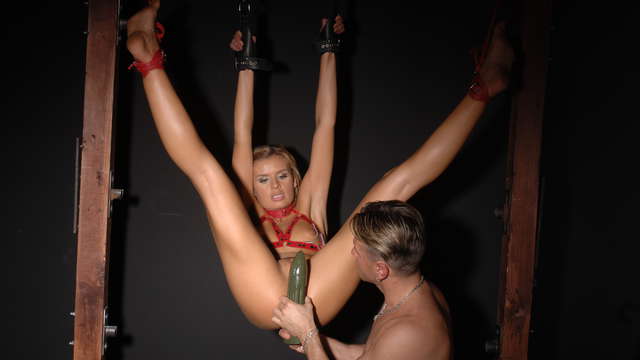 Cloe & Choky Ice: HUNG and STUFFED
A hard playing scene ensues when Choky introduces his new found friend to the arts of bondage and the darker side of lust. Dragged into the dungeon playroom her wiry and bewildered body is thrust up in the rack exposing her in the widest possible position. Choky has his way with her out stretched pussy. He pulls and stretches it till it can accommodate not just his fingers, but his whole hand. Cloe swoons with ecstasy as he plunges his fist deep into her gapping pit. This introduction is followed by several more when her body and limbs are bound hanging and stretched to extreme limits. Her mouth hung at crotch level well beneath her spread and pointed feet, accommodates Choky's plunging organ. Hung be wrists and ankles Cloe's pussy and asshole are both exposed and spread wide. They oddly enough easily accommodate a huge green dildo as well as Choky's hammering cock.
Actor: Cloe, Choky Ice
Domination
Dildo
Bondage
Length 25:22 Views: 0x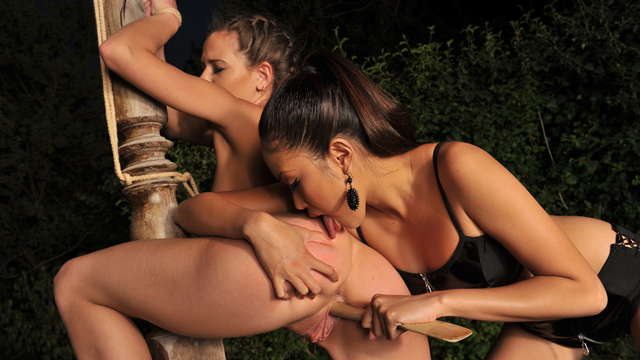 Tightly Bound and Hotly Spanked!
Subil Arch must have been pretty naughty to have displeased Danika to get the Filipina beauty to tie her up and discipline her so fiercely! First they go outside, where Danika binds her naked to a post on an old four-poster bed which comes in handy for perverted purposes! Then she gives Subil a barehanded spanking, and we watch the sizzling and reddening of Subil's seat. Danika can't resist giving her charge a few tongue licks between her cheeks, and she licks Subil's ears as well even as she pulls harshly on the dark blonde's nipples. Subil cries out at the intense squeezing of her nubs, and then Danika bites her earlobes as well. Danika spits on Subile's butt, then after tying her leg in a different position, she licks Subil's snatch for awhile. But Danika just can't seem to satisfy her cravings, as she moves from cunnilingus back to chastising Miss Arch's ass. While left alone as Danika goes to fetch an implement of correction, Subil rebels against her bonds, trying to break free, but she can't. Then Danika returns with a paddle, which she smacks over and over against Subil's bottom, which gets redder and redder. Danika fucks Subil with the handle of the paddle, which we see in huge intense closeups, and then she has Subil lick the handle clean. By the time Danika is finished with this bizarre punishment, night has fallen and the torrid pair are surrounded by darkness as Danika licks the face of her thoroughly chastised slave...
Actor: Danika, Subil Arch
Small Tits
Domination
Fake Tits
Length 26:22 Views: 1x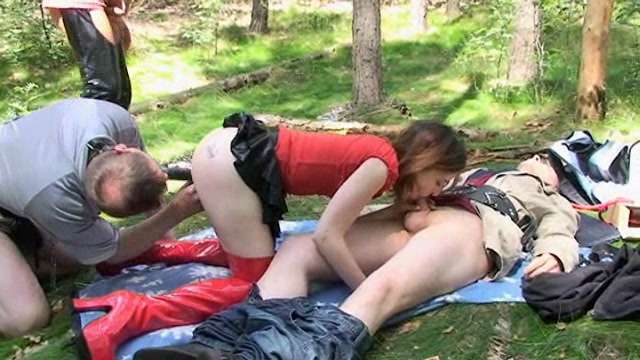 Gefesselt und als Maulfotze benutzt
Jetzt wirds hart: Julia Moreno wird gefesselt, ihr mit einem Dildoknebel die Pussy feuchtgefickt und die Maulfotze von zwei Kerlen benutzt, bis ihr der eine tief in den Rachen spritzt!
Teen
Blowjob
Cunnilingus
Length 12:45 Views: 0x